The famous lawsuit between Yao Ming and Coca-Cola is worth 1 yuan
on

1 Aug, 2020
In NBA news
The world famous beverage company Coca-Cola had trouble getting sued by Yao Ming, but it ended up paying only one yuan to the star!
After 10 years of playing in the NBA, Yao Ming has never had a championship ring, but he is still referred to as the greatest basketball player Asia has ever produced.
Eight appearances at All-Star, with an average of 19 points – 9.2 rebound – 1.9 blocks in his NBA career, Yao Ming also has a place in the Hall of Fame, so it is not difficult to understand when people call him the pride of China.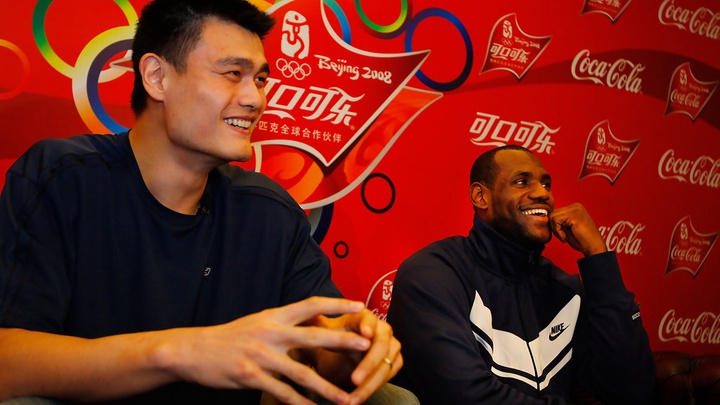 Having a illustrious career, Yao Ming therefore made a lot of money, he ranked 20th in the list of the richest players in NBA history with 120 million US dollars in the account.
Most of it comes from hefty advertising deals with Nike, Reebok, Visa, Apple, McDonald, Pepsi and Coca-Cola. But few people know that, before cooperating with Coca-Cola, Yao Ming has sued this famous beverage company!
In 2003, Yao Ming still had a contract to represent the image for Pepsi, but he was suddenly seen appearing on Coca-Cola's beverage products in China.
These are two famous beverage brands and are always competing fiercely, so the image of Yao Ming appearing on both brands at the same time made people wonder.
At the time, Coca-Cola signed a sponsorship contract for the Chinese basketball team, including a Chinese Coca-Cola license to use the image of three national team players on its products.
Surely with that provision, this beverage company has used images of 3 players Yao Ming, Mengke Bateer and Guo Shiqiang. And immediately they encountered trouble!
After unsuccessful conciliation agreements, Yao Ming sued Chinese Coca-Cola to demand the recall of these products in the market as well as compensation for the unauthorized use of images. Of course, with an influential player like Yao Ming, the Chinese people are on this star's side.
With an international brand such as Coca-Cola, they naturally do not accept to enter the water. At that time, all over the Chinese newspapers talked about this famous lawsuit. However, it's easy to see that the more involved in the Coca-Cola lawsuit, the more damage will be on the side.
This famous beverage company faces the risk of being boycotted by billions of Chinese consumers, which is clearly a huge loss of Coca-Cola. Most importantly, the abolition of the Chinese market meant they had a bitter defeat against their competitor Pepsi.
However, Coca-Cola had a bold move to turn from defeat to victory. Somehow, they persuaded the successful 2m29 striker to withdraw the lawsuit, in exchange for Coca-Cola China to apologize to Yao Ming in the media, and the amount of compensation symbolic value. .. 1 yuan (equivalent to 3,400 Vietnamese dong).
Nobody knows what Yao Ming and Coca-Cola had agreed, but right after the picture deal ended with Pepsi, Chinese pride signed a contract with Coca-Cola, the brand he just sued, Thereby officially closing the grove between 3 parties!
Many experts predict that Coca-Cola had to spend huge sums on Yao Ming to turn the crisis into its own opportunity. China became the largest market for Coca-Cola, which has the largest revenue among the countries they appear.
Coca-Cola accounts for 60% of the beverage market of 1.4 billion Chinese people, with such a huge profit, the amount of money they spend to appease Yao Ming is clearly incapable.