Anthony Davis exploded strongly, bombarding DPOY Rudy Gobert
on

9 Aug, 2020
In daisydreams
Anthony Davis, with one of the best matches of the season, took the Los Angeles Lakers past the Utah Jazz, shutting down doubts about his performance.
After the failure and a lackluster performance before Toronto Raptors 2 days ago, Anthony Davis was eager to return to express himself.
Today, he and his Los Angeles Lakers team-mates meet the Utah Jazz, the defensive player of the Year, Rudy Gobert.
However, Gobert was unable to do too much in front of a determined Anthony Davis, playing extremely explosive and effective.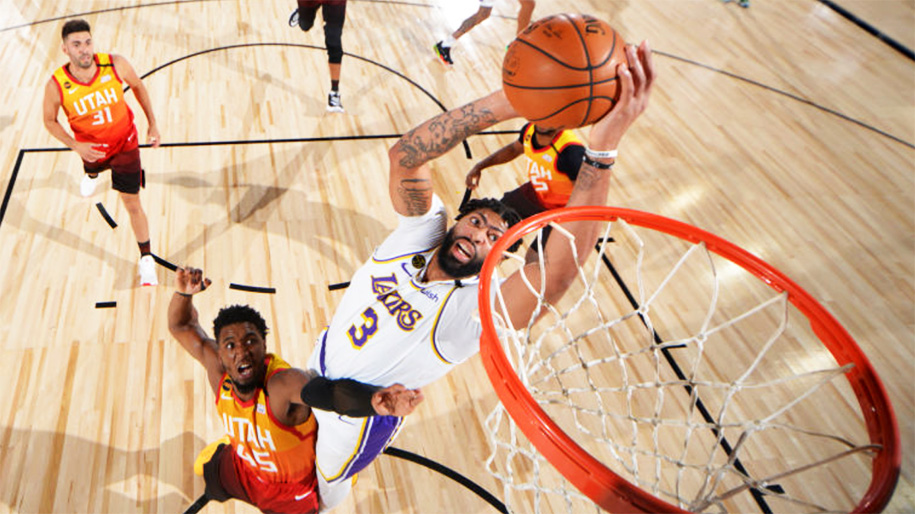 Utah Jazz used a lot of defensive tactics with Anthony Davis.
Initially, they allowed Rudy Gobert to try 1-1 with Davis but failed, leading to the French striker having to sit on the bench with many personal errors early.
After that, the Jazz bigman was selected but no one could keep up the flexibility of AD.
With a diverse set of skills, Anthony Davis did everything to shoot Utah Jazz quickly. He turned, ballast artfully until the end of the basket with a high success rate.
To close the sublimation day, Davis successfully threw 3 points and-1 at the counter of Rudy Gobert, bringing the game out of control with the opponent.
This 4-point ball ended the extremely impressive day of Anthony Davis, in response to all doubts of the fans for him.
After 39 minutes, AD scored up to  42 points and 12 rebounds , accompanied by 4 assists, 3 steals and 1 block. Behind him was LeBron James, who exploded on the offensive in the fourth half with 22 points, 8 rebounds and 9 assists.
In addition to the duo LeBron – Davis, the Los Angeles Lakers today have an impressive contribution to the trio of Alex Caruso, Kyle Kuzma and Dion Waiters, players who do not score much but appear in many hot spots in defense. .
Kuzma, in particular, had an important three points at the decisive moment, right before Anthony Davis' 4-point situation.
With this 116-108 victory, the Los Angeles Lakers have firmly established their position in the Western NBA team, even though there are still five Seeding Games to compete.
Meanwhile, Utah Jazz took a step back in a race in the middle of the Playoffs including Houston Rockets, Jazz and Oklahoma City Thunder.
In the next match, OKC will be the opponent of the Los Angeles Lakers. As for Utah Jazz, they will face up against 8th division Memphis Grizzlies.